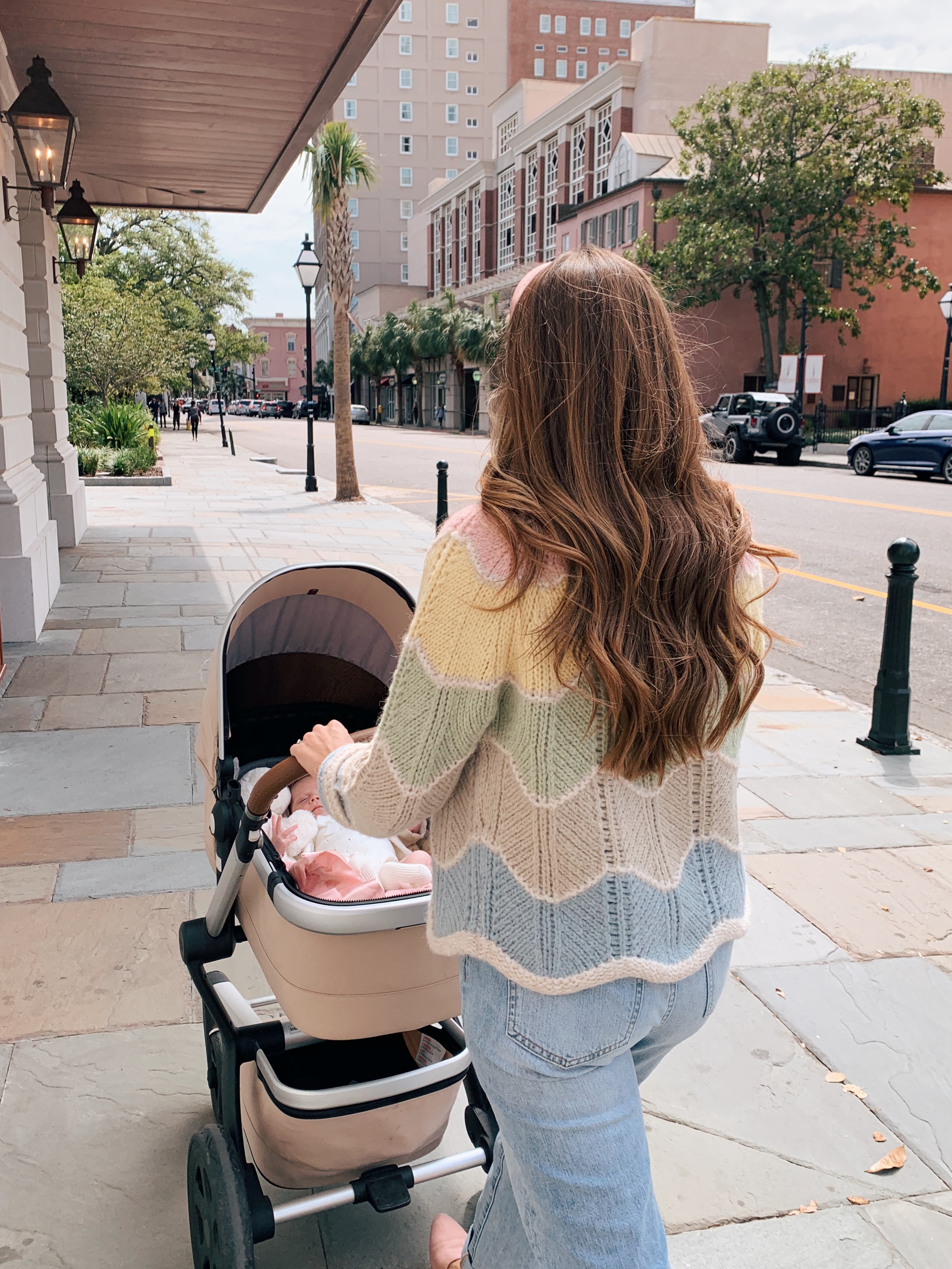 Since becoming a mother, I've found my outfits to be as much about comfort as style. With fall officially here, bringing with it some mildly cooler weather, I've been especially happy to slip on some high-waisted jeans, a pretty cardigan or sweater, a simple white tee and sneakers or flats. I try and make it a rule to get dressed every morning, even though I'm still at home with the baby, and these four pieces have been my best friends over the past two months. I've worn these Madewell jeans countless times, and brought out an old favorite pair of Rebecca Taylor jeans that I love as well.
Outfit Details:
Loveshackfancy Sweater, Rag & Bone Tee, Rebecca Taylor Jeans, Tretorn Sneakers
Our morning outings have become one of the most enjoyable parts of the day, as everyone is fresh and awake, feeling invigorated by the crisp autumn temps. We've been finding ourselves walking much further than we originally plan, simply because it is so nice outside and the baby loves it, too. She usually falls asleep within the first ten minutes, so we keep walking and walking while she sleeps. As the days get cooler, we look forward to getting outside even more. I've been wearing sneakers more than ever; my current favorites are Tretorn and APL, and I love wearing them with everything from dresses (like I did here with a pair of Golden Goose sneakers) to my favorite jeans.

Outfit Details:
Loveshackfancy Sweater, Rag & Bone Tee, Madewell Jeans, Le Monde Beryl Loafers (similar here), Jennifer Behr Headband (similar here)
Thank you to Nordstrom and Shopstyle for sponsoring this post.