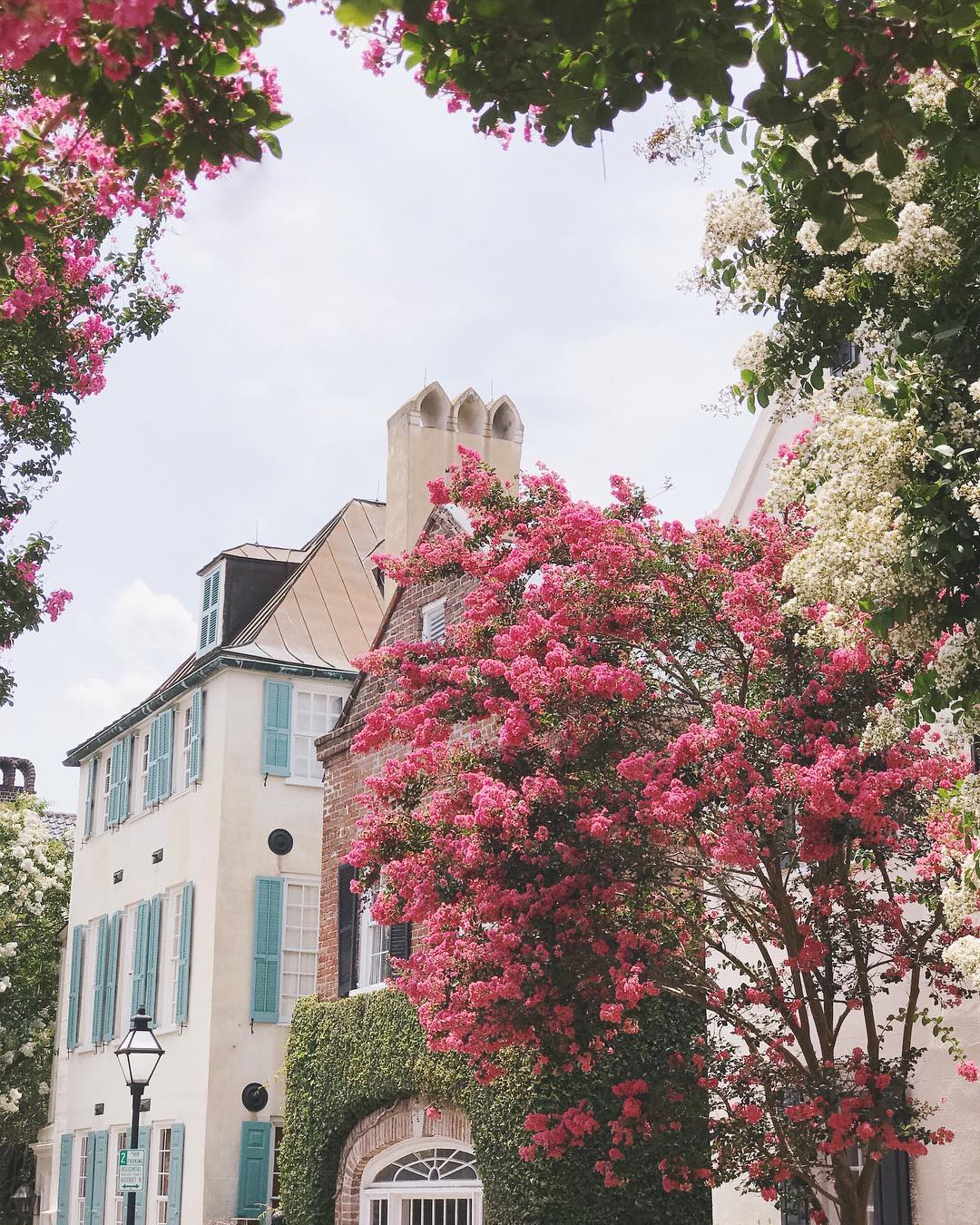 Welcome to our Charleston Travel Guide! We've spent years putting together this list of over 100 recommendations, which includes favorites from our team, friends who live here, guests, and travelers who have followed our previous guides. We're excited to share our absolute favorites with you!
Accommodations
Drinks & Dining
Drinks
Coffee
Sightsee Shop

(125½, Line St, Charleston, SC 29403) – Hip coffee shop and retail store with a minimalist design, serving coffee drinks and light bites. Features a small selection of curated goods.

Second State

(70.5 Beaufain St, Charleston, SC 29401) – Quaint coffee shop with a cozy atmosphere and friendly service, serving coffee, tea, and baked goods. 

The Rise (75 Wentworth St, Charleston, SC 29401) – Small coffee shop in The Restoration with a sophisticated design, serving coffee drinks and light bites for a quick coffee stop while shopping on King Street.
Breakfast + Brunch
Lunch
Dinner
167 Raw (193 King St, Charleston, SC 29401) – Originally starting with a first location on Nantucket, this chic raw bar serves up fresh seafood, colorful and delicious libations, and is known for its lively, trendy atmosphere. 
167 Sushi Bar

(289 E Bay St, Charleston, SC 29401) – The 167 Raw team takes a creative and fresh approach to sushi at this East Bay St. restaurant. Its small space makes it great for small groups. 

Basic Kitchen (82 Wentworth St, Charleston, SC 29401) – A team favorite for healthy, lighter fare, this restaurant serves fresh and colorful local dishes with a focus on simple and sustainable food, as well as tons of vegan and vegetarian options. Don't miss the cauliflower wings!
Brasserie La Banque

(1 Broad St, Charleston, SC 29401) – A classic French brasserie, Brasserie La Banque offers traditional dishes in a candle-lit atmosphere. End your experience with their famous crepe cake. 

Chasing Sage

(267 Rutledge Ave, Charleston, SC 29403) – Fresh and local ingredients inspire creative dishes at Chasing Sage and are paired with impeccable service. 

Chez Nous

(6 Payne Ct, Charleston, SC 29403) – Perfect for a date night, This charming french restaurant is a romantic gem tucked away on a quiet street, known for its beautiful handwritten menu that changes daily. 

Chubby Fish

(252 Coming St, Charleston, SC 29403) – Intimate neighborhood seafood restaurant and raw bar, with delightfully fresh oysters, crudo, caviar sandwiches, and more. With minimal seating, we recommend getting there early as they do not take reservations. 

Coastal Crust

(219 Simmons St, Mt Pleasant, SC 29464) – Delicious and fresh pizza and salads in Mt. Pleasant that has a great outdoor patio and playground area that's perfect for families. We recommend their fig and prosciutto pizza. 

Delaney Oyster House

(115 Calhoun St, Charleston, SC 29401) – Fresh seafood takes center stage at Delaney Oyster House, nestled in a traditional Charleston single house. 

Estadio

(122 Spring St, Charleston, SC 29403) – A lively Spanish tapas restaurant with a lively atmosphere and creative cocktail list. 

FIG

(232 Meeting St, Charleston, SC 29401) – Renowned farm-to-table restaurant with a focus on local ingredients and seasonal flavors. Perfect for a special occasion. 

Frannie and the Fox

(181 Church St, Charleston, SC 29401) – This Italian restaurant inside the Emeline hotel has a stunning modern interior and an even more beautiful outdoor patio featuring brick fireplaces and string lights, with delectable small plates, pasta dishes, pizzas, and drinks. Don't miss the chance to order at the secret bar window. 

Jackrabbit Filly

(4628 Spruill Ave #101, North Charleston, SC 29405) – This contemporary Chinese-American restaurant's menu features a mix of flavors and ingredients served family-style. 

Kingstide

(

32 River Landing Dr, Daniel Island, SC 29492) –

This modern seafood restaurant has a spacious dining room and an outdoor patio and is located next to an outdoor park and playground, making it a great spot for families. For a special evening activity, opt to take the Daniel Island Ferry from downtown which drops you off right in front of the restaurant. 

Le Farfalle

(15 Beaufain St, Charleston, SC 29401) – Twinkling string lights invite you into this neighborhood favorite restaurant, with traditional pasta dishes and Southern-Italian-inspired dishes. 

Leon's Oyster Bar

(698 King St, Charleston, SC 29403) – This oyster bar is a favorite amongst Charleston locals and serves delicious oysters and fried chicken, with a trendy yet laid-back atmosphere. We love the Siam Salad. 

Little Jack's Tavern

(710 King St, Charleston, SC 29403) – Famous for its award-winning burger, this tavern-style restaurant is great for couples and families alike. 

Malagon

(33 Spring St, Charleston, SC 29403) – Intimate tapas-style Spanish restaurant featuring a Mercado with a selection of cured meats and cheeses. Don't miss the Fideos and the Churros for dessert. 

Melfi's

(721 King St, Charleston, SC 29403) – Chic Italian restaurant with a cozy-upscale atmosphere and amazing salads, pizza, and pasta dishes. We crave their Sort of Spicy Caesar and Stretch Armstrong pizza. 

Obstinate Daughter

(2063 Middle St, Sullivan's Island, SC 29482) – Charming Sullivans Island restaurant with elegant coastal-modern decor and delicious oysters, pizzas, and salads. Their Old Danger pizza is not to be missed. 

Post House

(101 Pitt St, Mt Pleasant, SC 29464) – Located in a beautifully restored building with a spacious outdoor patio,  Post House's menu is a celebration of coastal cuisine, featuring fresh seafood, locally sourced produce, and traditional southern dishes with a modern twist. 

Sorelle

(88 Broad St, Charleston, SC 29401) – Elegant and modern Italian restaurant with a gorgeous marble bar and tastefully decorated interior. Sorelle's menu features classic Italian dishes with a modern twist. 

Sullivan's Fish Camp

(2019 Middle St Unit A, Sullivan's Island, SC 29482) – This relatively new restaurant has understated yet upscale decor, wonderful drinks and seafood, and is a welcome addition to the Sullivan's Island restaurant scene. For a fun cocktail, try their Frozen Paloma. 

The Ordinary

(544 King St, Charleston, SC 29403) – Luxurious oyster/raw bar that also serves upscale southern cuisine in a historic bank building with ultra-high ceilings and a sophisticated atmosphere. The fried oyster slider is a local favorite. 

Xiao Bao Biscuit

(224 Rutledge Ave, Charleston, SC 29403) – Casual and eclectic Asian fusion restaurant that is known for its inventive drinks and dishes using ingredients like Sichuan peppers. We highly recommend the Okonomiyaki dish (don't miss adding the egg and pork candy on top). 

Vern's

(41 Bogard St A, Charleston, SC 29403) – Cozy neighborhood restaurant in a restored home with an intimate setting and a menu designed around shareable dishes.
Snacks + Specialty
Late Night Drinks + Dancing
The Bangkok Lounge

(353 King St 2nd floor, Charleston, SC 29403) – Perfect for karaoke lovers, this second-floor dive bar offers an open-mic setup and enthusiastic crowd. Get there early to get your name on the karaoke list. 

The Commodore

(504 Meeting St Suite C, Charleston, SC 29403) – Set in an old jazz club, the Commodore is the place to go for late-night live music and dancing. Get there on the early side to beat the long line.

Henry's on the Market (54 N Market St, Charleston, SC 29401) – Multi-story bar featuring multiple live bands and musicians and a rooftop patio.
Activities
Great for Littles
Beaches (see below)
Children's Museum of the Lowcountry

(25 Ann St, Charleston, SC 29403) – A fun and educational attraction for children that features interactive exhibits and hands-on activities that are designed to engage and inspire children's curiosity and creativity. 

Gibbes Museum

(135 Meeting St, Charleston, SC 29401) –

T

he Gibbes Museum offers a range of fun programs tailored to meet the needs of children and families.

South Carolina Aquarium

(100 Aquarium Wharf, Charleston, SC 29401) – A wonderful attraction for families and littles that features exhibits and displays showcasing the diverse marine life found in the state's rivers, estuaries, and oceans.

Waterfront Park (1 Vendue Range, Charleston, SC 29401) – Take a stroll along Waterfront Park to scout for dolphins and learn more about the development of downtown Charleston through 3D maps.
Exploring
Casual Crabbing with Tia

– Learn about the art of crabbing and get hands-on with this Lowcountry native. This is a great family activity and a wonderful way to spend some time on the river's edge. 

Gibbes Museum of Art (135 Meeting St, Charleston, SC 29401)

–

T

he Gibbes Museum is dedicated to preserving and showcasing American art in the South. The collection includes paintings, sculptures, photographs, and more, and it also offers various programs and events throughout the year, such as art classes, lectures, and workshops.

Historic home tours and walking tours:

Walking areas:

The Battery & White Point Garden

– Stroll down to the bottom of King Street to the Battery, bordered by the Ashley and Cooper Rivers, which meet here to form Charleston harbor. Enjoy the beautiful oaks and azalea bushes in White Point Garden. 

French Quarter

– Wander the streets of The French Quarter, part of Charleston's original walled city. Enjoy the beautifully colored buildings and churches and make your way to Waterfront Park. 

Hampton Park

– The largest park on the peninsula, Hampton Park is our go-to spot for enjoying seasonal blooms and strolling around the center lake with our littles. 

Pitt Street Bridge

– Located in the Old Village, Pitt Street Bridge is the perfect place to enjoy marsh views and watch the sunset over the harbor.
Beaches
Folly Beach

– A charming and eclectic beach town, Folly beach is known for its laid-back atmosphere, wide sandy beach, and excellent surfing conditions,

Isle Of Palms Beach

– Another beautiful white sand beach, Isle of Palms is a popular destination for both locals and tourists alike, known for its soft sands, clear waters, and wide range of activities.

Sullivan's Island – Our favorite beach is situated just 10 miles from downtown Charleston, known for its clear waters and pristine white sand beach perfect for sunbathing, with a long coastline at high tide, and a beautiful sandbar during low tide that is great for kids.
Spas
Shopping
Fashion
Littles
Home
Specialty
Buxton Books

(160 King St, Charleston, SC 29401) – A charming local bookstore on King Street with a helpful staff to help you find your next favorite read.

Fieldshop (334 Meeting St, Charleston, SC 29403) – Located in The Dewberry hotel, Fieldshop features a variety of local Southern makers and hosts rotating trunk shows and pop-ups.