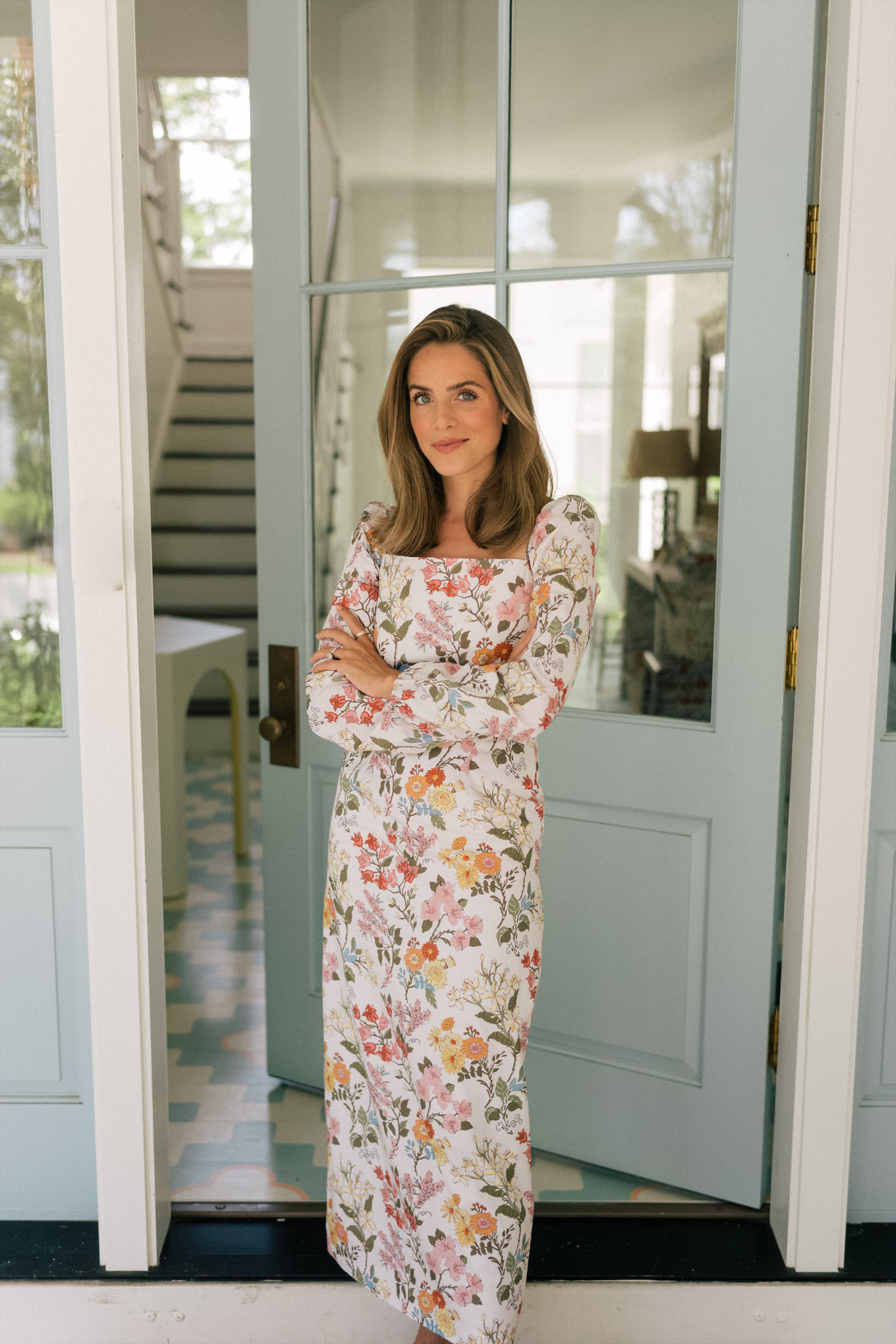 We are over the moon to finally be launching JuliaBerolzheimer.com. It's been over 9 years since we started Gal Meets Glam, and it feels like the right time to evolve the brand to be more in line with who I am today.  
We are introducing Julia Berolzheimer with our refreshed site, branding and colors that are a true reflection of myself. This was all brought to life by one of the most talented people I know, Hanna Seabrook from Gadabout. As one of my closest girlfriends, she was able to capture everything I wanted for JB and make it feel like an elevated, modern version of our previous brand. You'll first notice our transition from pink to green as our core color. This feels like a big evolution, and one that has happened so naturally. My love for nature, being in the garden and a pursuit for a more relaxed approach since becoming a mother, has inspired this change. Our new JB logo with a floral bouquet pays nod to GMG with a ribbon tied around it. Hanna and I knew right away we wanted something floral, as it's played a huge role in my life and the beauty of nature will always continue to inspire me. 
The biggest new feature of our site is that you're now able to create an account. We created the accounts to act as your bulletin board of things you love. Your account on JuliaBerolzheimer.com will be your space to save your favorite products and posts, so you can reference to shop now or later. I'm constantly saving things on IG, it's one of my favorite features, and it's what sparked this idea. Now, you'll easily be able to find your favorite looks, posts and items that you find on JB and curate it to your own preference. Once you create an account, you can then start to heart your favorite blog posts, daily looks and products to save. Just look for the small heart throughout the site and click it when you want to save something. Once you're in your account, you can easily access all of your favorite things within the different tabs. This has been our biggest add-on to our site, and one we are really excited about. Click here to sign up now!
One of the exclusive features of having an account is the full access to The Shop, which is where we have curated Shops that we update weekly. Each Shop features finds from our favorite retailers and small brands. We hope that this is a great way for you to not only find products you love, but discover an array of brands from big to small, from all over the world. Right now we have a few different Shops for you to discover; At Home, Littles, Under $200 and more. Within each Shop, you'll notice a few tags, such as "Julia's Closet" and "Julia's Home", which highlight the products that I have personally purchased for myself and own. You'll also see the tag "Under $100" to call out the budget friendly pieces we are constantly looking to find for you. 
We also have some really amazing brand collaborations coming up, starting with our Amanda Lindroth x Julia Berolzheimer Collection launching tomorrow, the 17th. You'll see a Shop arrive in your account tomorrow with all of the pieces from that collaboration, which you'll then be able to shop. If you're curious about what we have coming in the future, take a peek at this page to find out more!
Within your account, you'll also see a page called Brand Love. We created the Brand Love page for two reasons; to introduce you to some of our favorite small brands and to give you special offers only available to account holders. We are really excited about this new feature, as it truly marries our two favorite things- supporting small businesses, while providing our customers with a special experience. We will continue to update and change this page and will keep you notified when new brands or offers are introduced. 
We additionally made some changes to our site organization, most notably with our categories. We think it will greatly improve your experience and shorten the time between you landing on our site and finding content or products that interest you. We post daily, so oftentimes there are posts you may have missed. We created our new category header to highlight the most visited and timely categories, while also including new post notifications that show all new Stories under those categories. If you head to the Stories tab at the top of our site, you'll see categories in circles at the top with numbers to highlight the most recent posts within the past two weeks. 
We have carefully considered each new feature added and elements taken away, and hope you are pleased with the new site and experience. We aim towards continuous improvements to make the experience even better for you and will be listening to give you more of what you're loving, along with answering any questions that you may have. If you have any feedback or need help, please email us at [email protected]
xx Julia, Thomas & Team