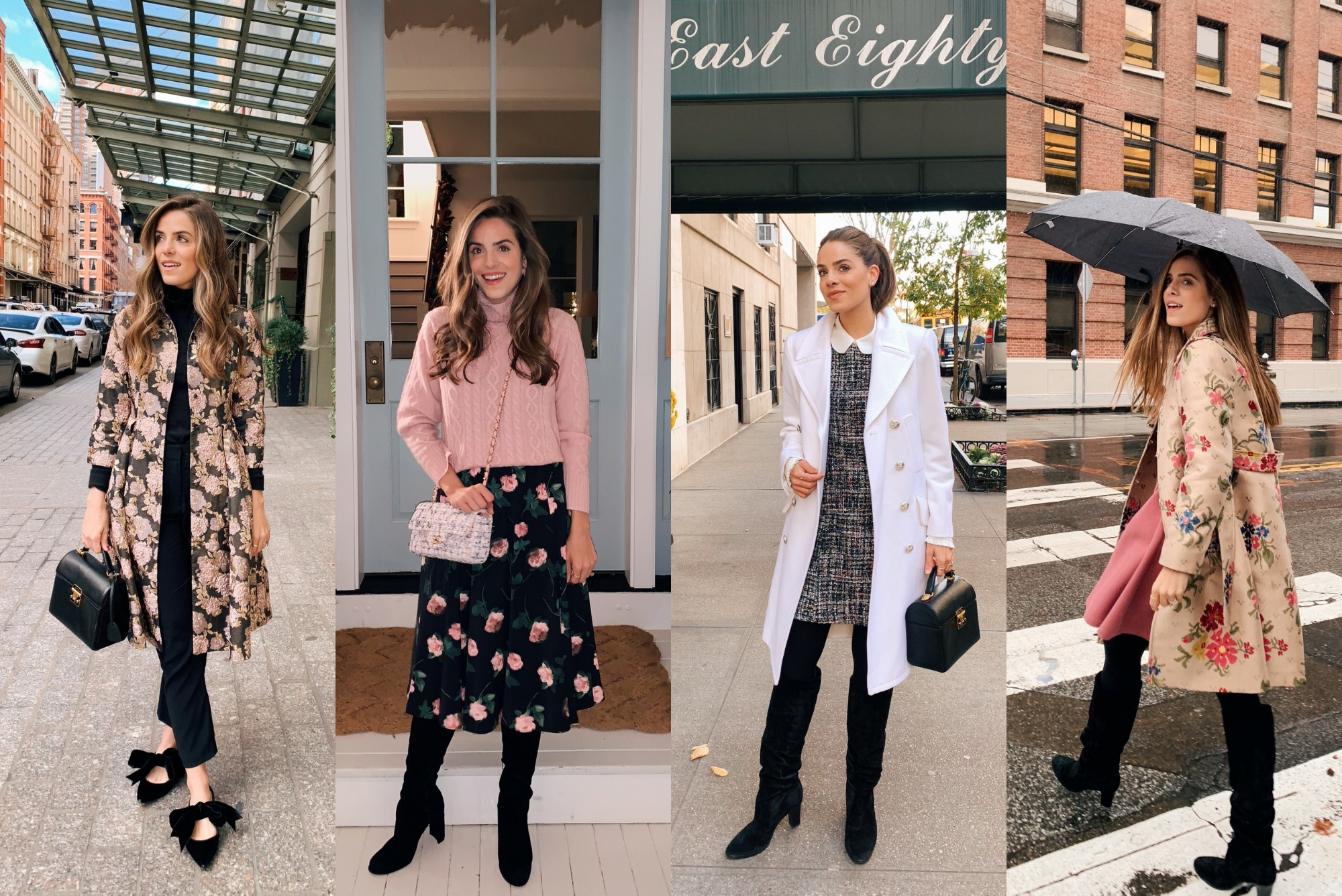 I've received a few comments about how I dress a little differently when I'm in New York City, and while I'll always stay true to my feminine, classic style, I have to agree! Travel serves as an endless source of inspiration to me when I'm deciding what to wear in the morning, so it's only fitting that I dress differently when I'm in locales as unique and distinct as Manhattan and Charleston. NYC has an artsier, edgier vibe than Charleston, which gives me an extra dose of boldness to try different combinations than I might not gravitate toward elsewhere, but it's also considerably colder right now, so my outfits have to change a bit in order to be practical. The environment where I work influences my choices as well–in Charleston, I'm often working from home or from our casual office right down the road. In New York, our office is in the heart of NYC's Garment District, and the dress code is definitely dressier when going into the office. I make mental notes of outfit ideas inspired by people I pass on the street almost daily. I've certainly been taking notes about how New Yorkers dress to head to work in winter, and now that I've had a few weeks to put some of those ideas into practice with my own feminine spin, I'd love to share a few of my favorites. If you live in a cold place, don't feel like you have to pack away your dresses until spring–instead, here are four of my tried-and-true ways to style them for work in winter.

One of the women on our NYC team came into work one day with our Lucy dress worn like a coat over a sweater and pants. I immediately told her I was going to copy her look–which I did, the very next day! On mild winter days, long-sleeve, button-down dresses made of a heavier material, like the Lucy dress' jacquard, can instantly become stunning "coats" if you wear them open over your favorite winter layers. To draw all eyes to the dress, I prefer layering it over a monochromatic base, like the black cashmere turtleneck and black cropped pants seen here.
Whether you're partial to a crisp, preppy oxford or a romantic silk blouse, a long-sleeve button-down shirt can instantly transition a sleeveless dress from fall to winter. I've been wearing this Frame blouse underneath our fall tweed dresses, like Katherine shown here, and Tinsley (both now 40% off). Especially when paired with black tights and boots, plus a winter white coat to play up the contrast, this look always feels perfectly polished for a big day in the office.
Some of my favorite Gal Meets Glam Collection daytime styles to date are solid-colored dresses in elegant silhouettes, like Edith, Celeste, and Maggie. The beautiful shades of these dresses create ideal backdrops for memorable accessories and layers, my current favorites being statement coats. I have a few floral options in particular that I love pairing with solid dresses–they pop when I complete the look with black tights and knee-high black boots for winter. P.S. Don't have a patterned coat in your closet? Achieve a similar effect by pairing your solid-colored dress with a coat in a contrasting color, plus a statement scarf. We just added a floral silk scarf to our site that would work beautifully!
Crewneck sweaters are not only a winter wardrobe staple on their own; they're also the ideal layering pieces to slip over a dress for extra warmth. To keep this look chic and not bulky, opt for a thicker knit sweater and a dress with a smooth top and sleeves (like Sadie shown here, Edith, Eva, or Tinsley, with the last three now 40% off). I especially love this look with patterned dresses, since you can emphasize one of the colors in the pattern through the sweater color you opt for. The creative mix-and-match possibilities are truly endless.