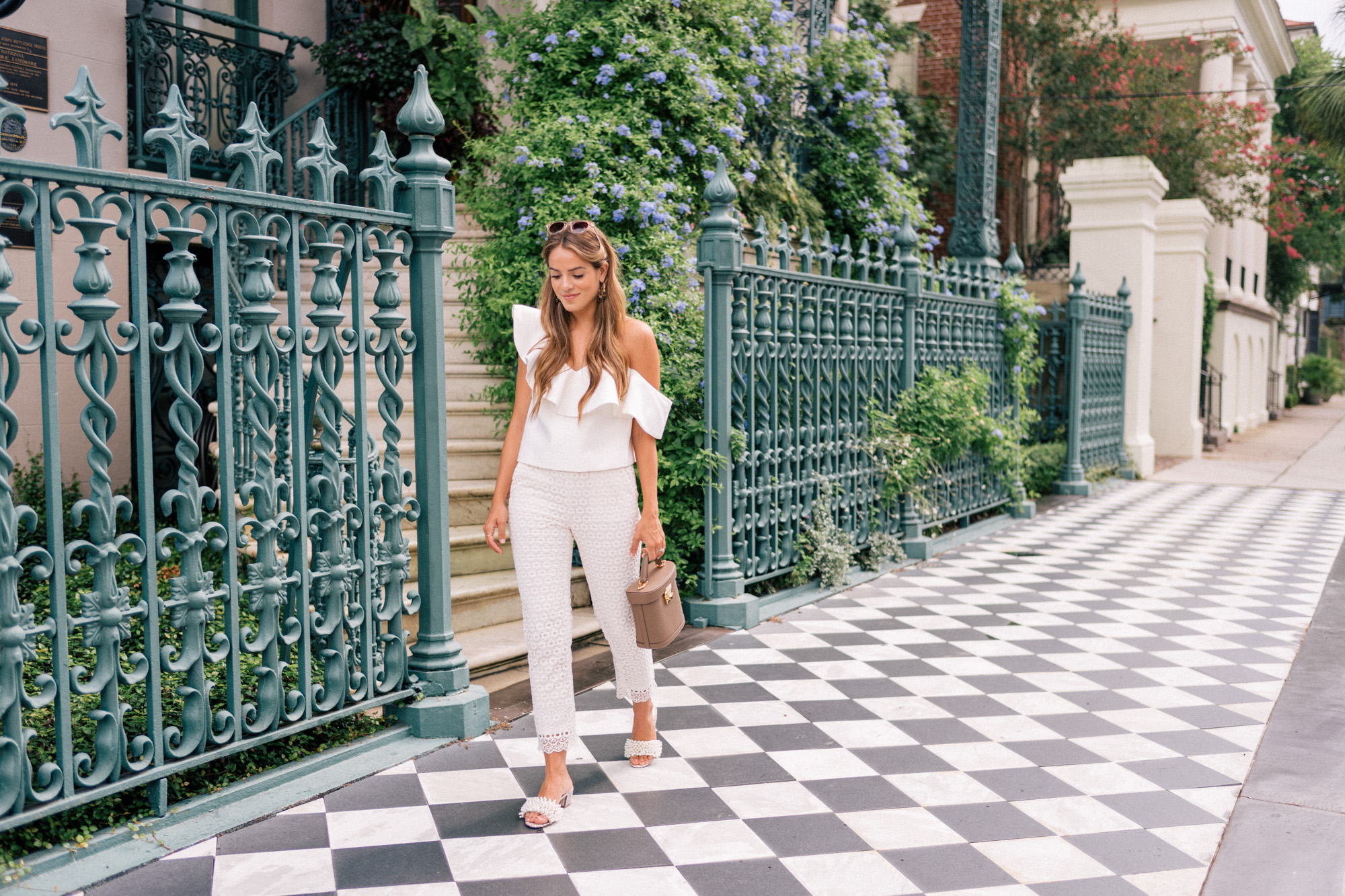 Outfit Details:
Keepsake Top (last seen here, also similar here and here), J.Crew Pants (matching top), Tory Burch Sandals, Rebecca Taylor Sunglasses, J.Crew Earrings, Mark Cross Bag
Pearls will always hold a special place in my heart. My first 'fine' piece of jewelry I ever received was a pearl bracelet with a gold plate engraved with my name on it. My mother gave one to me and one to my sister the day she married my stepdad when I was five. I still have that bracelet and it's one of my most treasured items. After that, as I got older, my mother gave me a pair of pearl studs that I wore every single day (and still do), and then a pearl necklace that she was given when she was young. I still love looking at all of the pearl pieces that my great-grandmother passed down to my grandma, and so on and so-forth. They have a timeless beauty to them- they will never go out of style. So naturally, pearls have been one of my favorite details when it comes to accessorizing. One of my favorite trends right now is the abundance of pearls popping up on shoes- from sandals to heels to flats, boots and loafers. They are everywhere and I'm all for it!
I'd been eyeing these Tory Burch pearl sandals for quite some time until they sold out everywhere in my size. Luckily, they came back in stock over here and this time I didn't miss out. The sandal is covered in a gorgeous tweed fabric, with the pearl beads taking center stage. I'm already planning lots of outfits with them, with everything from a simple white tee and jeans to a white eyelet dress. Stuart Weitzman's fall collection is also filled with pearl details. Everything from knee-high boots and booties, to loafers and oxfords, to sandals and heels and more. And if you're looking for some budget friendly options, this pair, this pair and this pair are all gorgeous and under $100 (but don't look like it)!
Want even more pearls? Check out this GMG Now post highlighting more of my favorite pearl shoes this season!