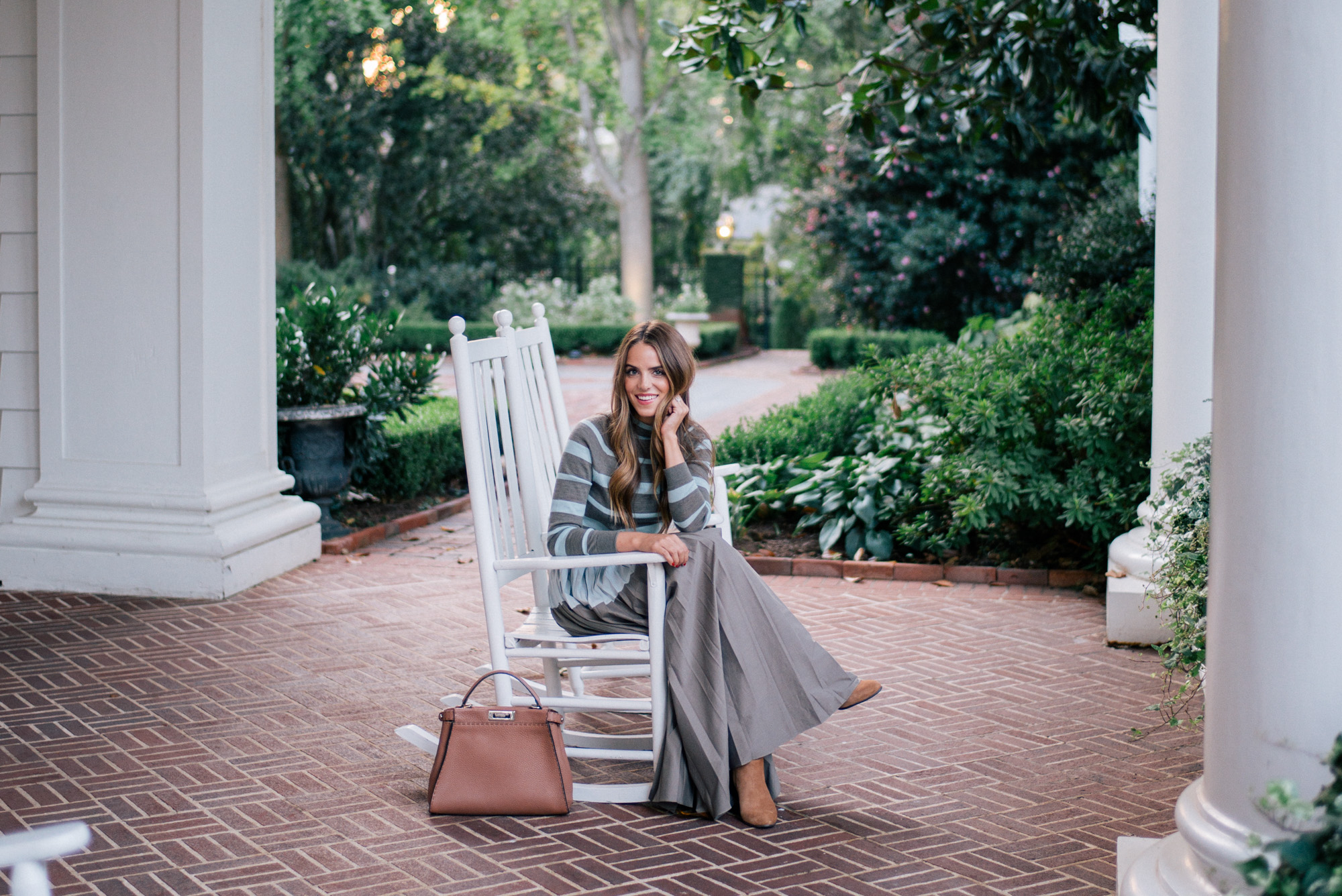 Outfit Details:
Lela Rose Sweater & Skirt (dress version) c/o, Fendi Bag, Sam Edelman Boots (on sale here and here)
Thomas and I haven't explored much of our new surroundings, as we haven't had the time yet, but we did get to spend a day in Charlotte back in November. One of my favorite designers, Lela Rose, was hosting a luncheon at Tabor and trunkshow at Capitol along with Jane Scott Hodges from Leontine Linens. I jumped at the chance to go, as both women have impeccable taste and I was really excited to see Charlotte, which is about a three hour drive from us. I'd also heard wonderful things about Capitol, a luxurious boutique filled with the newest of Valentino, Celine, Rosie Assoulin, Stella McCartney, Balenciaga and more (they also have Poole, which is the upstairs shop that carries designers like Sea, Isabel Marant, Zimmermann, Ulla Johnson and more).
We stayed at the beautiful Duke Mansion, which was just as grand and gorgeous as it looks. Our room had a sweeping covered porch, and the grounds were exquisitely kept with lots of roses and manicured gardens. Sadly, we could only stay for one night, but we'll definitely come back soon as it's not too far.
We met at Tabor, which is Capitol's mens store. It is curated so well, I kept telling Thomas to shop, but alas, he's never interested in doing so. I might need to head back there in the near future for gifts for him! A beautiful lunch was set up on their porch, with beautiful linens by Leontine Linens. The tables were lined with bright fall colors, which was so refreshing to what you would typically expect from a fall tablescape. After the lunch, we all gathered in the SOCO Gallery (housed with Tabor in a 1920s bungalow) to listen to both Lela and Jane speak about style and entertaining. Both women were so kind and had so many funny stories/ great tips on hosting (which I'm so excited to do more of once our house is complete!).
After the lunch, we headed over to Capitol, where both women were having a trunk show. Getting a sneak peek at Lela's collection was such a treat. I could live in her dresses for the rest of my life. She is the epitome of grace and classic style, but she always knows when to add an element of fun or surprise. She's also one of the sweetest and funniest people! We had such a wonderful time spending the day with her. I wore this sweater and skirt from the Pre-Spring 2017 Collection. If you haven't seen her Spring 2017, you should check it out here– it's one of my favorite yet!
Afterwards we headed back to the hotel for a glass of wine on the porch to finish off a lovely day.